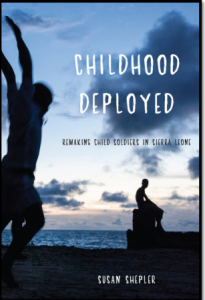 Those of you in the Washington DC area may be interested in attending the launch of Susan Shepler's new book, Childhood Deployed: Remaking Child Soldiers in Sierra Leone. 
September 9, 2014 — 12:00-2:00pm
Hosted by The International Peace and Conflict Resolution Program
School of International Service
American University
Shepler will provide a brief description of the methodology and main argument of the book.  Then a panel of three distinguished anthropologists — currently working for the World Bank, the International Rescue Committee, and PEPFAR —  will discuss how ethnographic knowledge can be used in child and youth policy and programming.
For more info, download the flyer here:  Shepler Book Event