by Jajah Wu, University of Chicago Law School
(Originally posted on  June 16, 2018: reposted here with permission from Youth Circulations)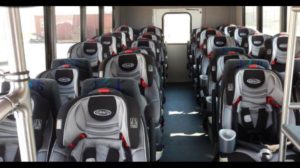 It is difficult to know how to feel about the human rights violations committed by this administration against immigrants. And by that I mean, as an advocate who is, if not seasoned, then weathered, say, I know I can do my best work if I float above the knowledge of what is happening to families and children. "There," I say, pointing down into the water, "the government forcibly separated 658 children from their parents in two weeks. Look at it."
658 is a terrible number. It is also academic—that is the nature of numbers. They allow us to float above the water. But say you'd like to get closer to the truth, as I suspect you do, if you are still with me.
Well, imagine reading 658 individual stories of families—broken families, happy families, struggling families. There are birthdays, funerals, accidents, small joys and losses, maybe there are threats from gang members, maybe there aren't. You, reader, fall in love with the way the baby girl eats beans, smearing them over her face like a culinary Picasso…
…read more on youthcirculations.com
Also see "Care in Contexts of Child Detention" by Lauren Heidbrink, CSU Long Beach for more discussion here.