Online & Open Access
"A Cross-Cultural Perspective on Childhood" – a brief overview from HRAF
"Why Anthropology of Childhood? A Brief History of an Emerging Discipline" by David Lancy. 2012, AnthropoChildren (1) [Open Access]. 
Edited Volumes / Survey Texts / Introductory Articles

Bluebond-Langner, Myra, and Jill Korbin. 2007. Challenges and Opportunities in the Anthropology of Childhoods: An Introduction to 'Children, Childhoods, and Childhood studies. American Anthropologist 109(2): 241–246.
James, Allison, and James, Adrian. 2008. Key Concepts in Childhood Studies. Los Angeles: Sage Publications.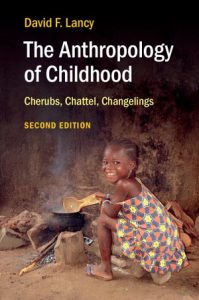 Lancy, David F., John Bock, and Suzanne Gaskins, eds., 2010. The Anthropology of Learning in Childhood. Walnut Creek, CA: AltaMira Press.
Lancy, David F. 2008. The Anthropology of Childhood: Cherubs, Chattel, Changelings. New York: Cambridge University Press.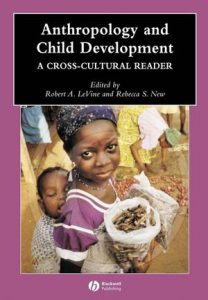 LeVine, Robert A. &  Rebecca S. New, eds. 2008. Anthropology and Child Development: A Cross-Cultural Reader. Wiley-Blackwell.
LeVine, Robert A. , S. Levine, S. Dixon, A. Richman, P. H. Leiderman, C. H. Keefer, T. B. Brazelton. 1996. Child Care and Culture: Lessons from Africa. Cambridge University Press.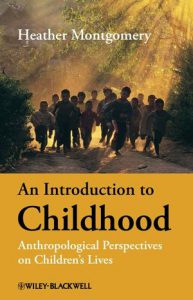 Montgomery, Heather. 2009. An Introduction to Childhood: Anthropological Perspectives on Children's Lives. Malden, MA: Wiley-Blackwell.
Smith, Karen. 2011. Producing governable subjects: Images of childhood old and new. Childhood 19(1):24-37.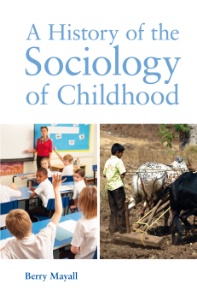 Thorne, Barrie. 2008. Sociology and Anthropology of Childhood. In Encyclopedia of Children and Childhood in History and Society. Advameg Inc., The Gale Group, Inc.
Mayall, Berry. 2013. A History of the Sociology of Childhood. IOE Press.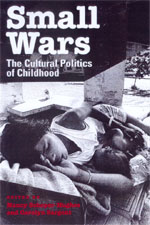 Schwartzman, Helen B., ed. 2001. Children and Anthropology: Perspectives for the 21st Century. Bergin & Garvey.
Scheper-Hughes, Nancy and Carolyn F. Sargent, eds. 1999. Small Wars: The Cultural Politics of Childhood. University of California Press.
---
Do you have something you'd like to see added to our resources? Please email the content coordinator Robin Valenzuela robinvalenzuela1708[at]gmail[dot]com to contribute. 
---
By providing links to other sites, the ACYIG does not guarantee, approve, or endorse the information or products available on these sites.