Kristin Koptiuch
Arizona State University-West
(Originally posted on July 8: reposted here with permission from Youth Circulations)
Though largely unrecognized by official planning instruments and unacknowledged by the public in anti-immigrant Arizona, immigrants are transforming metropolitan Phoenix. Visualizing Immigrant Phoenix, a student-faculty research collaborative I direct at Arizona State University, explores these transformations by engaging its audience through vibrant visualization of immigrants' imprint upon the Phoenix urban environment. This project occurs at a time when immigrants are increasingly demonized, criminalized, and denied due process. Our work responds by according due importance to migrants' creative and deliberate impacts on everyday urbanism in transnationalizing cities.
In an era of unprecedented human mobilities, Phoenix diversity is not unexpected for a major American city. Current US Census data shows 20% of city residents are foreign born, 65% coming from Mexico, and 41% of the city population is Latinx. Stymied by reigning anti-immigrant sentiment, city residents and civic leaders are reluctant to acknowledge—let alone cultivate—creative ways that migrants already influence the city as informal, unintentional urban planners-from-below. Our projects track the ways in which immigrants have revived stagnant neighborhood economies, brought magical-realist redesign to the cityscape, added colorful flair to the city's subdued design palette, infused global youth practices, and transnationalized Phoenix urbanism with local outcroppings of global religions, cuisines, cultures.
Immigrant and diaspora youth in particular play a critical role in bringing this realization into view. Our youthful team of undergraduate researchers brought fresh perspectives from their own migrant and diaspora communities. The inclusion of a Somali refugee, a first-generation Assyrian-Iraqi, and a Mexican DACA recipient this past spring extended the project's reach and depth of insight. Although our gaze is not exclusively directed at youth, young migrants frequently do become central to our inquiry as team members engage their own networks to pursue their research.
Origins of the Project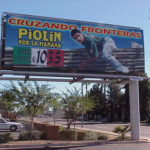 Visualizing Immigrant Phoenix is an extension of my long-term commitment to teaching, researching, and visualizing the impact of immigrants on metropolitan Phoenix, where I've lived for 25 years. Having taught courses on migration and worked with migrant advocacy organizations, I began to create ethnographic photo essays to defuse Arizonans' hyper-sensitivity toward immigration, integrating emotion and affect with a resistant critical gaze (e.g. "Cruzando Fronteras/Crossing Phoenix," 2012).
See to see the full post, visit the blog article at Youth Circulations (http://www.youthcirculations.com/blog/2017/7/8/visualizingimmigrantphoenix).