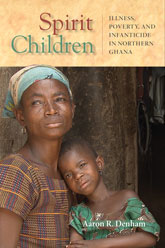 Spirit Children: Illness, Poverty, and Infanticide in Northern Ghana
In parts of West Africa, some babies and toddlers are considered spirit children—nonhumans sent from the forest to cause misfortune and destroy the family. These are usually deformed or ailing infants, the very young whose births coincide with tragic events, or children who display unusual abilities. In some of these cases, families seek a solution in infanticide. Many others do not.
Refusing to generalize or oversimplify, Aaron Denham offers an ethnographic study of the spirit child phenomenon in Northern Ghana that considers medical, economic, religious, and political realities. He examines both the motivations of the families and the structural factors that lead to infanticide, framing these within the context of global public health. At the same time, he turns the lens on Western societies and the misunderstandings that prevail in discourse about this controversial practice. Engaging the complexity of the context, local meanings, and moral worlds of those confronting a spirit child, Denham offers visceral accounts of families' life and death decisions. A sample chapter is available online.
A discount code that reduces the hardback price to $30 is currently available. Go to the publisher's link and use the code AA057 when checking out.
To keep costs reasonable for students, a discount is also available for classes. For course adoption discounts, contact Andrea Christofferson. The text is relevant for classes in medical and psychological anthropology, anthropology of childhood and reproduction, global health, development studies, African studies, and bioethics.
Aaron R. Denham is the director of the Master of Development Studies and Global Health program and a senior lecturer in anthropology at Macquarie University in Sydney, Australia. He formerly was a mental health provider for children and families, a fellow of the American Psychoanalytic Association, and a volunteer with Engineers Without Borders.