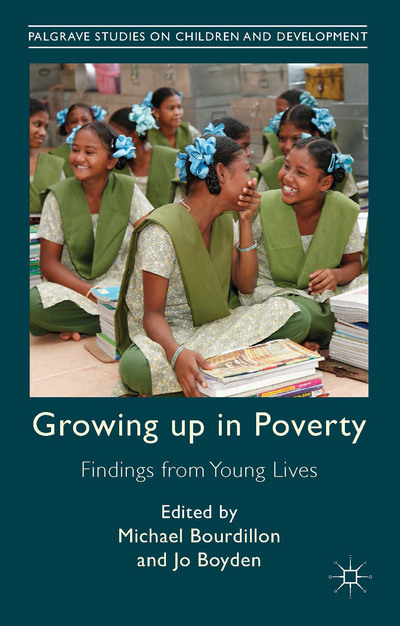 Edited by Michael Bourdillon and Jo Boyden
Palgrave MacMillan, 2014
This new book brings together the latest findings from Young Lives on how poverty affects children's development and how children and their families respond to poverty in their daily decisions and daily lives. The book shows how, amid general economic growth, many poor children are being left behind despite, the promises of the Millennium Development Goals. While the universalisaton of education now means that most children attend school, at least for a while, children from disadvantaged backgrounds often experience poor-quality education and learn least in school, creating inequality of opportunity.
Changing values, and the growing belief in education as a route of out poverty, raise questions about how children's early circumstances and experiences, and the choices open to them, affect their later outcomes and well-being in adolescence and early adulthood.

Contents
Introduction: Child Poverty and the Centrality of Schooling
Michael Bourdillon and Jo Boyden
How Does Where Children Live Affect How They Develop? Evidence from Communities in Ethiopia and Vietnam
Paul Dornan and María José Ogando Portela
Family Socio-economic Status, Mother's Psychosocial Skills and Children's Human Capital: Evidence from Four Low- and Middle-Income Countries
Andreas Georgiadis and Priscila Hermida
'I Am Dependent On My Children's Support': Risk and Protective Factors for Children Experiencing Adverse Events
María José Ogando Portela and Kirrily Pells
Gender, Agency and Poverty: Children's Everyday Experiences in Andhra Pradesh and Vietnam
Gina Crivello, Vu Thi Thanh Huong and Uma Vennam
Schooling and Cognitive Outcomes from Childhood to Youth: A Longitudinal Analysis
Caine Rolleston and Zoe James
Changes in Rural Children's Use of Time: Evidence from Ethiopia and Andhra Pradesh, India
Virginia Morrow, Yisak Tafere, and Uma Vennam
The Role of Formal Education in the Subjective Well-being of Young Teenagers in Rural and Urban Peru
Alexandra Cussianovich and Vanessa Rojas
Fulfilling the promise of school education? Factors shaping education inequalities in Ethiopia, India, Peru and Vietnam
Helen Murray
How Much Difference Does School Make and For Whom? A Two-Country Study of the Impact of School Quality on Educational Attainment
Sofya Krutikova, Caine Rolleston and Elisabetta Aurino
Ethnic minority children's and adults' perceptions and experiences of schooling in Vietnam: A case study of the Cham H'roi
Vu Thi Thanh Huong
Educational Opportunities and Learning Outcomes of Children in Peru: A Longitudinal Model
Santiago Cueto, Juan León, and Ismael G. Muñoz
Reflections: Inequality, School and Social Change
Michael Bourdillon and Jo Boyden
Available from Palgrave Macmillan ISBN 978-1-137-40402-2