Childhood Cancer: Powerful Words
review by Cindy Dell Clark, PhD.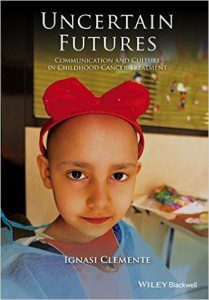 Uncertain Futures: Communication and Culture in Childhood Cancer Treatment
by Ignasi Clemente
Wiley-Blackwell, 248 pp, October 2015
With regard to our kids, words we hope never to hear or have to say include "cancer" and "death." We hope to avoid these words altogether, and when they arise, there is a tendency to shower the children involved with charity, pretense, and diversion: visiting clowns, get-well toys, or, as a last resort, wishes-come-true through the Make-A-Wish Foundation or Kids Wish Network. Justin Bieber alone is said to have participated in some 250 wishes-come-true for children with life-threatening conditions.
Continue reading 'Uncertain Futures: Communication and Culture in Childhood Cancer Treatment' reviewed by Cindy Dell Clark →