re-posted from youthcirculations.com
June 15 marks the 5-year anniversary of the DACA program. For the first time, a recent study analyzes DACA's impacts on recipients' psychological wellbeing. The results are clear: DACA can make you feel better, though it may not resolve concerns about deportation.
by Caitlin Patler and Whitney Laster Pirtle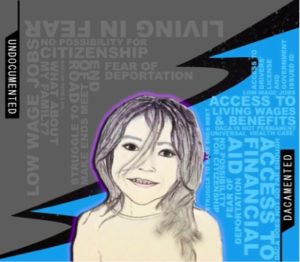 Undocumented immigrant youth in the United States face a host of challenges that impact their psychological wellbeing. Many experience hopelessness, shame and self-blame, anxiety, fear of deportation, and concern about blocked social mobility. One recent study found that undocumented youth experience a loss of "ontological security," or the inability to count on the stability of the future. Another study led by immigrant youth at the UCLA Dream Resource Center found that undocumented youth struggle with depression, anxiety, trauma, and emotional distress related to their status. There have even been reports of suicide among undocumented young people who felt they could not overcome the barriers imposed by their status.
It is clear that the legal marginalization undocumented immigrants face can detrimentally impact health. Yet there is still very little research that documents how undocumented young peoples' psychological wellbeing might alter if their legal status were to change, even if temporarily.
Becoming DACAmented
The Deferred Action for Childhood Arrivals (DACA) program provides a unique opportunity to understand the experiences of individuals who transition from undocumented status into other, even slightly less marginalized, statuses. Announced by President Obama in June of 2012, DACA allows eligible undocumented youth to apply for temporary (and revocable) lawful presence that includes work authorization, a social security number, and other related benefits, renewable every two years. As of the first quarter of 2017, 925,921 individuals applied for DACA, with 26% of applications coming from California, and the vast majority of applicants originating from Latin America. DACA allows us to ask: Can changes to legal status impact health, particularly psychological wellbeing?