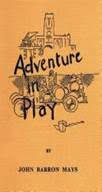 Common Threads Publications is pleased to announce the launch of their 'Playwork Classics' series – unavailable and neglected historical texts written by the adventure playground pioneers and those involved in the development of playwork profession.
The first Playwork Classic, John Barron May's Adventure in Play, is now available. Originally published in 1957, Adventure in Play is a report on one of the first experimental adventure playgrounds in the UK. Adventure in Play provides an engaging and sometimes challenging account of how the radical new concept of 'adventure playground' was first put into practice. In doing so it raises important questions about the development of today's adventure playgrounds and the modern-day playwork profession which grew out of them.
Adventure in Play is essential reading for childhood historians, playwork students, sociology scholars and anybody interested in the development of play services for children from a historical perspective.
More information can be found here http://www.commonthreads.org.uk/?page_id=216 . To be kept up-to-date about forthcoming titles in the Playwork Classics series, please email us at info@commonthreads.org.uk.