July 2023
Who matters in child development? Peers and other caregiver roles in fostering children's development in Rural Madagascar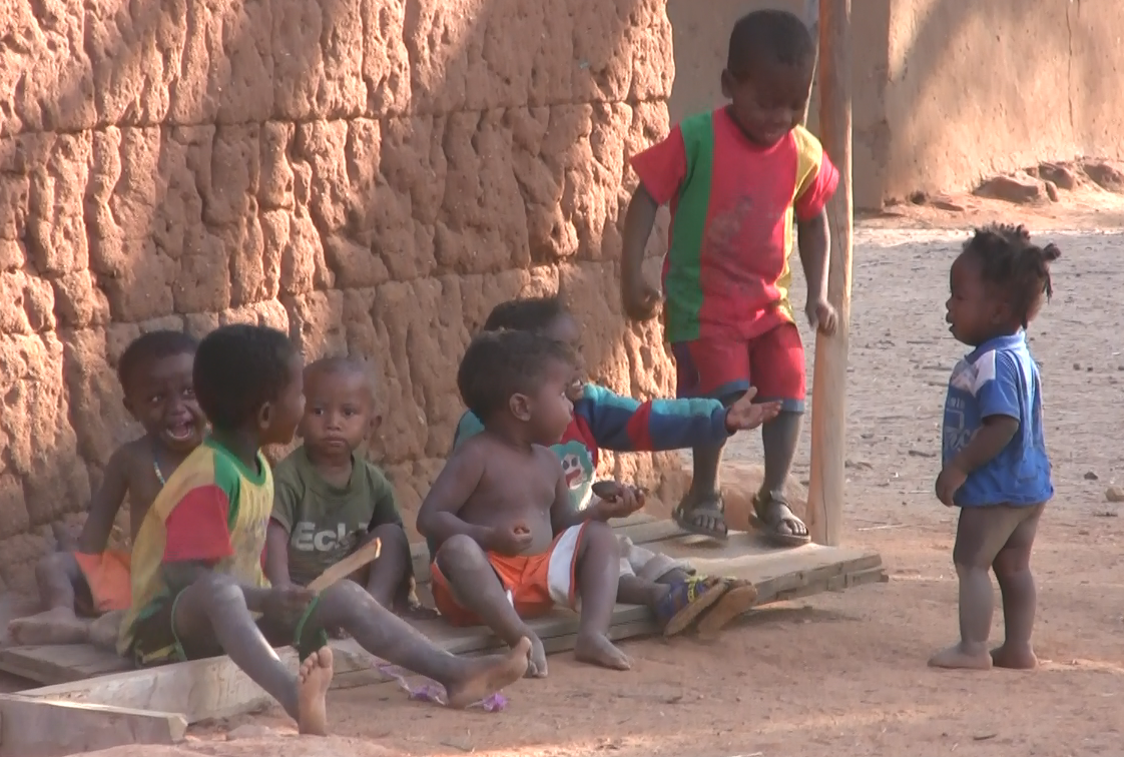 Scheidecker, Gabriel. 2023. "Parents, Caregivers, and Peers: Patterns of Complementarity in the Social World of Children in Rural Madagascar." Current Anthropology 64 (3): 286–320. https://doi.org/10.1086/725037.
If we think of an infant or a toddler – who else comes into mind? Is it perhaps the mother or father? Early childhood research and intervention usually focus on parents as presumably most influential figures in young children's lives. This seemingly trivial fact has far-reaching consequences. In early intervention, for example, children's opportunities for early learning or socio-emotional development are usually assessed through the mother-child interaction. But what if mothers in a particular community do not play or talk much with their infants and toddlers, while these children play and talk a lot with other children? Their cognitive development would be severely underestimated.
This scenario is true for a rural community of pastoralists in Madagascar: From early on children experience cognitively and affectively stimulating social interaction with other, similar-aged children. Mothers and other caregivers like preadolescent siblings or cousins are important too, however in different ways. They foster physical wellbeing, safety, and a calm state of infants and toddlers. Such a role division among children's social partners appears to be common around the world according to the ethnographic record, especially when looking beyond middle-class, nuclear family settings. Therefore, the influential claim of early intervention, that the majority of young children in the global South do not have adequate opportunities for early learning and suffer from poor brain development, is more than doubtful.
To counter the parent-centric bias in much early childhood research and to foster a more comprehensive understanding of children's social world across cultures, I propose the notion of complementary role division. I pitch this notion against the established hierarchical understanding, which ranks caregivers according their assumed significance for the child – from parents, to other caregivers, to peers. It builds on and specifies the concepts of multiple caregiving or distributed care. While these notions point to the fact that children may be raised by more individuals than just the parents, they still cling to parent's primary roles of caregiving. Complementarity by contrast, incites to attend how all actors in children's social world, whether caregivers or not, whether older or younger, complement each other by providing different social experiences. Finally, I argue that due to complementary role distribution, children may simultaneously acquire several context-dependent modalities of relationship, emotion, and self.
Read Scheidecker's article here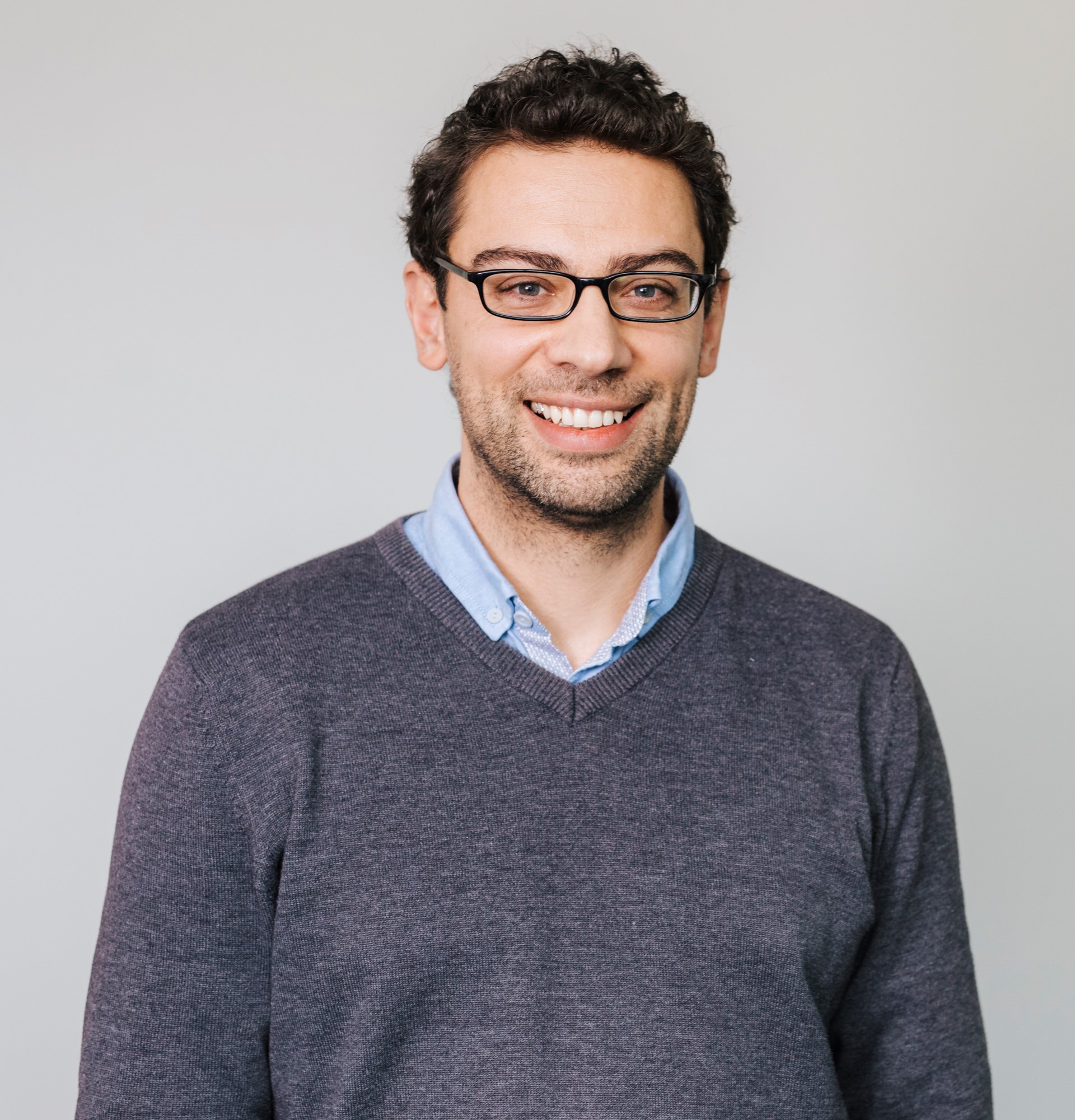 Gabriel Scheidecker is Assistant Professor at the Department of Social Anthropology and Cultural Studies, University of Zurich. He has conducted long-term ethnographic research about childrearing, and emotion socialization in Madagascar and about immigrant parenting and parenting support within Vietnamese migrant settings in Berlin. In his current roles as PI of the SNSF Starting Grant "Saving Brains?" he critically engages with the science and politics of early childhood interventions in the global South. His previous publication is: Scheidecker, G., Chaudhary, N., Keller, H., Mezzenzana, F., & Lancy, D. F. (2023). "Poor brain development" in the global South? Challenging the science of early childhood interventions. Ethos 51(1), 3-26
---
June 2023
Girls Who Kick Back: A new ethnography on street soccer, gender and Muslim youth in the Netherlands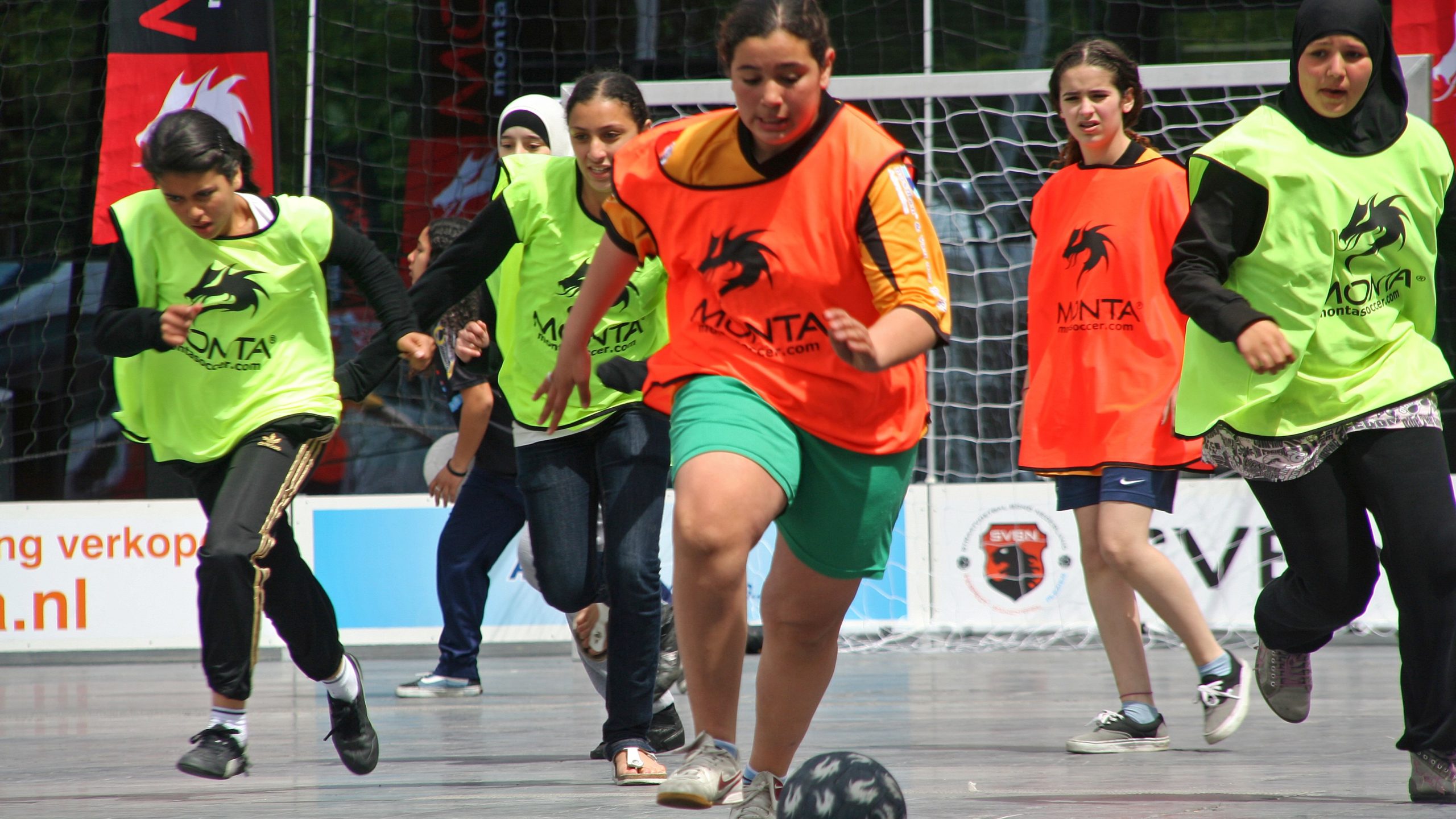 Girls' soccer is one of the fastest growing sports in the world. But do girls with diverse ethnic and religious backgrounds equally play soccer? And how is the growth of girls' soccer reflected in urban public spaces where girls and boys compete in the access to those spaces?
With those questions in mind, I joined street soccer games and trainings in Dutch a multicultural and multi-religious neighbourhood, the Schilderswijk. Already the focus on girls in the masculine world of (street) soccer proved the relevance of this topic. Girls were thrilled that I was there to speak to them, and not to the boys. The interest of a researcher in their girls' street soccer games, was the recognition that they counted as real street soccer players. The boys, on the other hand, were often a bit annoyed that I wasn't there to speak to them in the first place, and sometimes even demanded to be interviewed too. However, during the course of the research I found out that the gender segregation often so prominent in sports, wasn't that clear-cut in the street soccer competition that the girls organized the neighbourhood.
This book takes you to the performances of masculinity, femininity and heteronormativity in street soccer playgrounds through the eyes and plays of teenage girls and boys. Moreover, it shows how Moroccan-Dutch and Muslim girls navigate the gendered, racialized and secularized public sport spaces in their neighbourhood, such as soccer courts, urban playgrounds and public squares. This ethnography is a tribute to the street soccer girls who kick back, not at the ball in the game, but also at racism and sexism in sport and society. Goal!
Read Van Den Bogert's book here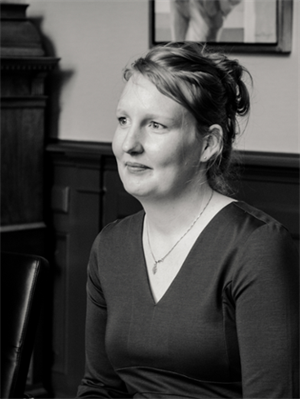 Kathrine van den Bogert is an assistant professor at the Utrecht University School of Governance and the research group Sport and Society. She has a PhD in social anthropology and MA and postdoc in gender studies. Her expertise is on the themes gender, youth, diversity, sport, multicultural urban neighbourhoods and ethnic and religious diasporas in the Netherlands and Europe. Her first book 'Street Football, Gender and Muslim Youth in the Netherlands: Girls Who Kick Back' is published with Bloomsbury Academic and is based on long-term ethnographic research in the Schilderswijk in The Hague (the Netherlands). Kathrine has also conducted ethnographic research on youth social movements in Birmingham (UK) and Cairo (Egypt).
---
April 2023
What happens when children disagree?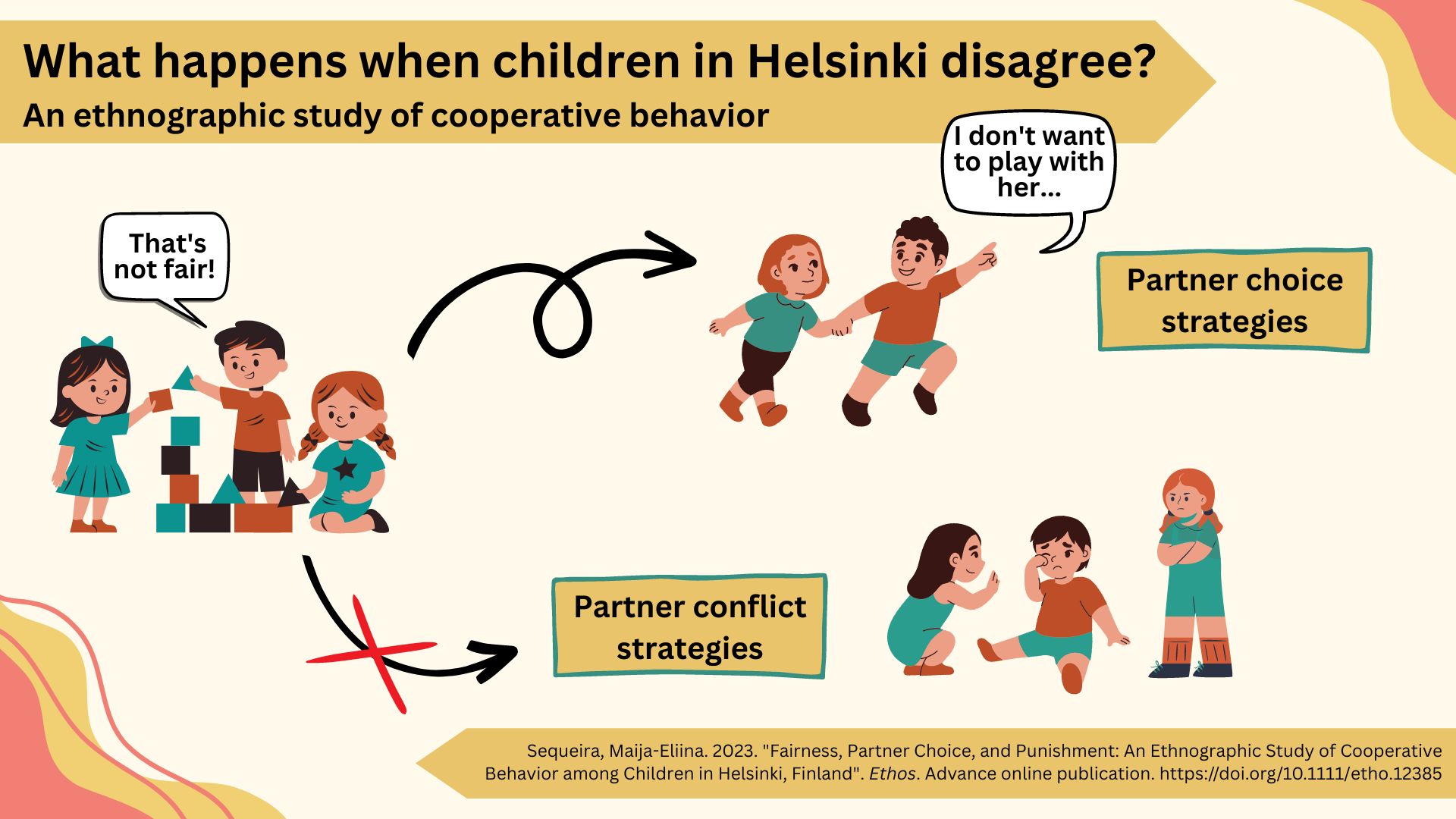 Click on visual abstract to view enlarged version
Sequeira, Maija-Eliina. 2023 "Fairness, Partner Choice, and Punishment: An Ethnographic Study of Cooperative Behavior among Children in Helsinki, Finland." Ethos https://doi.org/10.1111/etho.12385.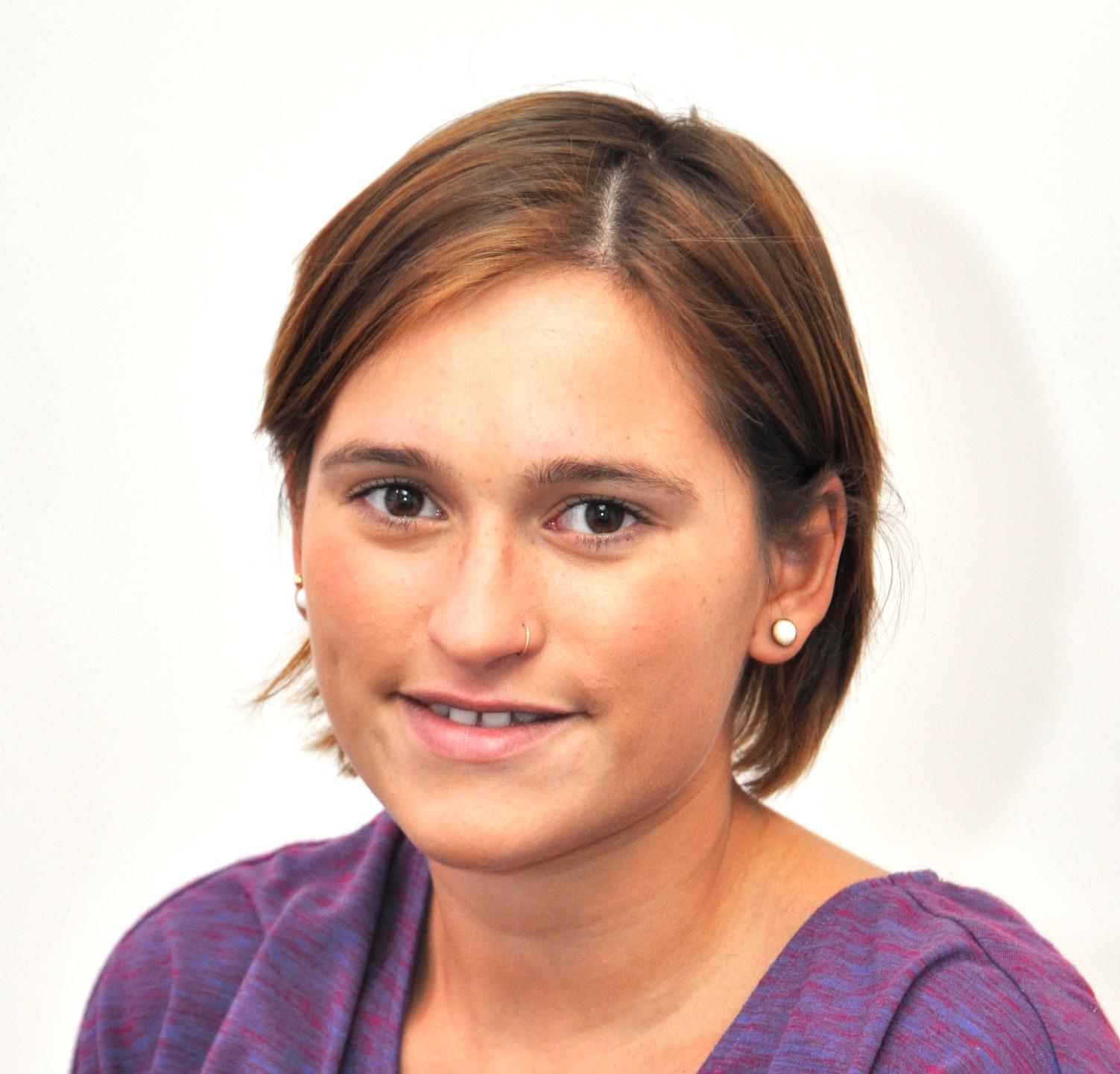 Maija Sequeira is a doctoral researcher at the University of Helsinki. She is interested in how children learn and use social hierarchies in their everyday lives, and uses experimental and ethnographic methods in Finland and Colombia to explore this from both cross-cultural and developmental perspectives.
---
March 2023
How do young swimmers come to "sense" the water?
Heath, Sean. 2022. The Quality of Water: perception and senses of fluid movement. The Senses and Society, 17(3), p.263-276.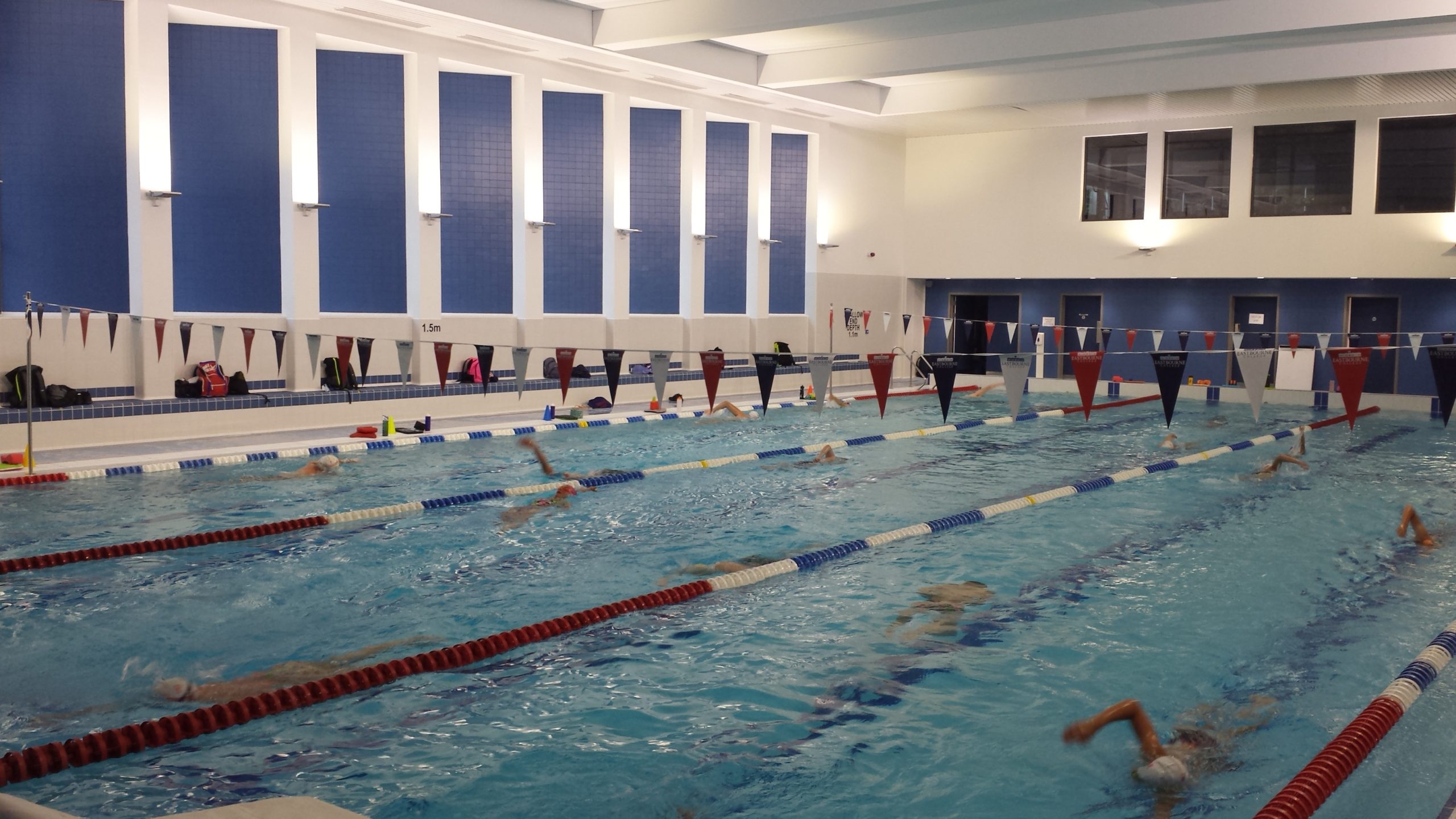 How does immersion in water shape young people's senses, sense of self, and lifeworlds? From as early as six years old, competitive swimmers begin developing a 'feel for the water' through playful exploration of movement and tactile sensory experiences in water. Senses of touch must be cultivated and privileged from an early age to shape the sensorium of the swimmer. Over time, young people's apprenticeship in swimming culminates in whole body changes in flexibility, mobility, and sense perception.
In learning to exploit the materiality of water and in becoming more immediately aware of its properties with the goal of swimming faster, going further with each stroke, and recovering more seamlessly, competitive youth swimmers enact an embodied sensory knowledge of water shaped through a sensorium that privileges touch sense modalities. In other words, swimmers can manipulate water and interact with it differently. Water additionally affords emotional pleasures in movement, over, under, on top, and with the liquid flow. Emotion and motion become entangled in swimming performances, past emotional experiences and present feelings of nerves, anxiety, or confidence can shift how the swimmer perceives the tangibility of water (whether their hand is 'slipping' or 'anchoring' in the water), and thus their own sense of self as a fast swimmer. Even an absence of immersion may heighten already honed senses, a few weeks out of the water bringing a subtle but forced awareness back into young people's 'feel for the water' and their being-in-the-water.
Sean Heath is a Social Anthropologist specializing in the body, movement, well-being, the senses, and human-water interactions. He received his PhD in 2022 from the University of Brighton. He has conducted research with competitive swimmers in Canada and the UK which examined the sensory aspects of immersion in water and the sociality of club swimming and how these affect youths' wellbeing. He has also examined the emplaced entanglements between the material, social, and emotional experiences of outdoor swimming in "natural" environments. In October 2023 he will commence a Marie Skłodowska-Curie Actions postdoctoral fellowship at KU Leuven to study human, more-than-human, and planetary wellbeing in the entangled relationships between arctic waters, the senses, and place.
Find out how to submit your work to the Spotlight on Scholarship
---
October 2022
When smartphones hijack rapport…
Jovicic, Suzana, 2022. The Affective Triad: Smartphone in the Ethnographic Encounter. Media and Communication, 10(3):225-235. https://doi.org/10.17645/mac.v10i3.5331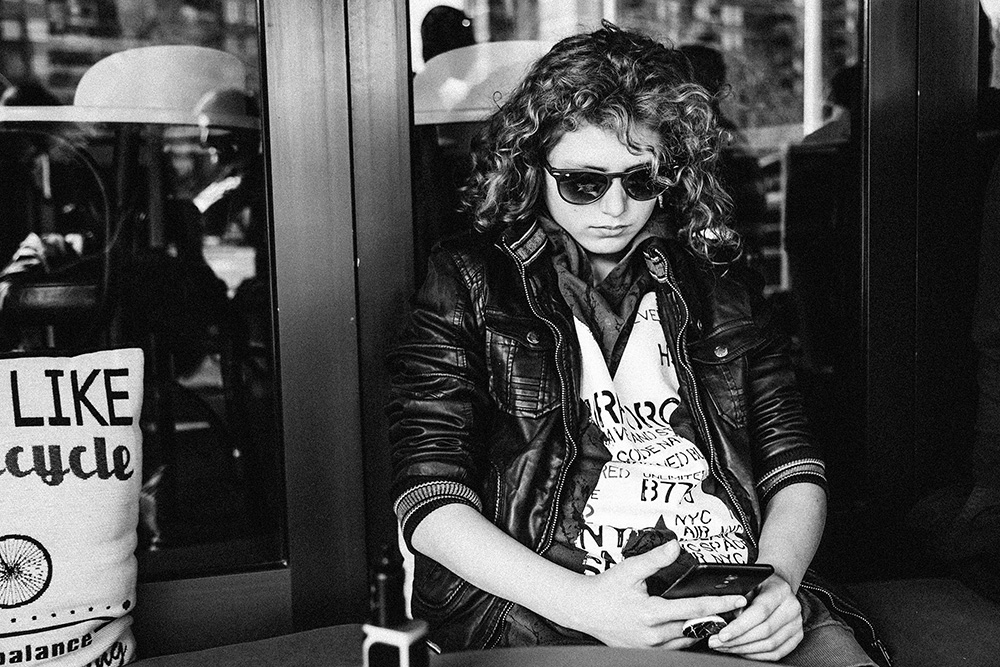 Image credit: Zoran Zonde Stojanovski on Unsplash
Imagine nervously fumbling with your hands as you awkwardly stand in front of an unknown interlocutor, sweating out small talk that will ideally catapult you into a blissful state of trust and rapport. Looking around, you find yourself in a youth centre on the outskirts of Vienna, Austria, facing an unimpressed teenager leaning on a sofa, surrounded by peers who are all very adept at avoiding eye contact. And now add the smartphone…. Now you can only assume you are looking at an unimpressed teenager because you now stare at top of his head while he looks at his smartphone and scrolls through the endless social events – so you assume. Now get on with the fieldwork and good luck.
It didn't take long for a feeling of desperation to set in as I began my fieldwork in Vienna's youth centres, hanging out in the municipally funded recreational spaces for children and young people between the ages of 5 and 21. As a digital anthropologist later dubbed "the internet woman", I was fascinated by smartphones, which seemed like impenetrable black boxes that at the same time exuded an air of warmth and intimacy towards the owners while remaining cold towards the researcher. They seem to disrupt the potential for connection and place a cloak of invisibility over their owners, enveloping them in a bubble of privacy. Over time, however, smartphones morphed into highly ambiguous and shape-shifting objects, sometimes living up to their commercially popular image as connecting devices, opening doors to conversations, shared videos or transnational connections. But sometimes they also signalled temporary absence or deliberate withdrawal – both processes closely linked to the natural ebb and flow of (ethnographic) relationships. The young people described finely tuned, deliberate social choreographies around the smartphone, far from the zombification lamented in popular media. The fact that I did not initially see this dance does not mean that it does not exist.
As I argue in this article, ethnographic relationships may have always contained discomfort, but the appearance of alien objects in the middle shakes things up, albeit in unexpected ways. It can help us re-examine what rapport actually means, how we can explicitly negotiate privacy, which in this case is not just a diffuse concept, but strangely embodied in an externalised object. The ambiguity of such a slippery object itself becomes a constant reminder that privacy and relationship are dynamic processes – when smartphones are offered to the prying eyes of an ethnographer, or perhaps used demonstratively to avoid them. Such an avoidance needs to be given sufficient space, especially in our research with minors and vulnerable populations.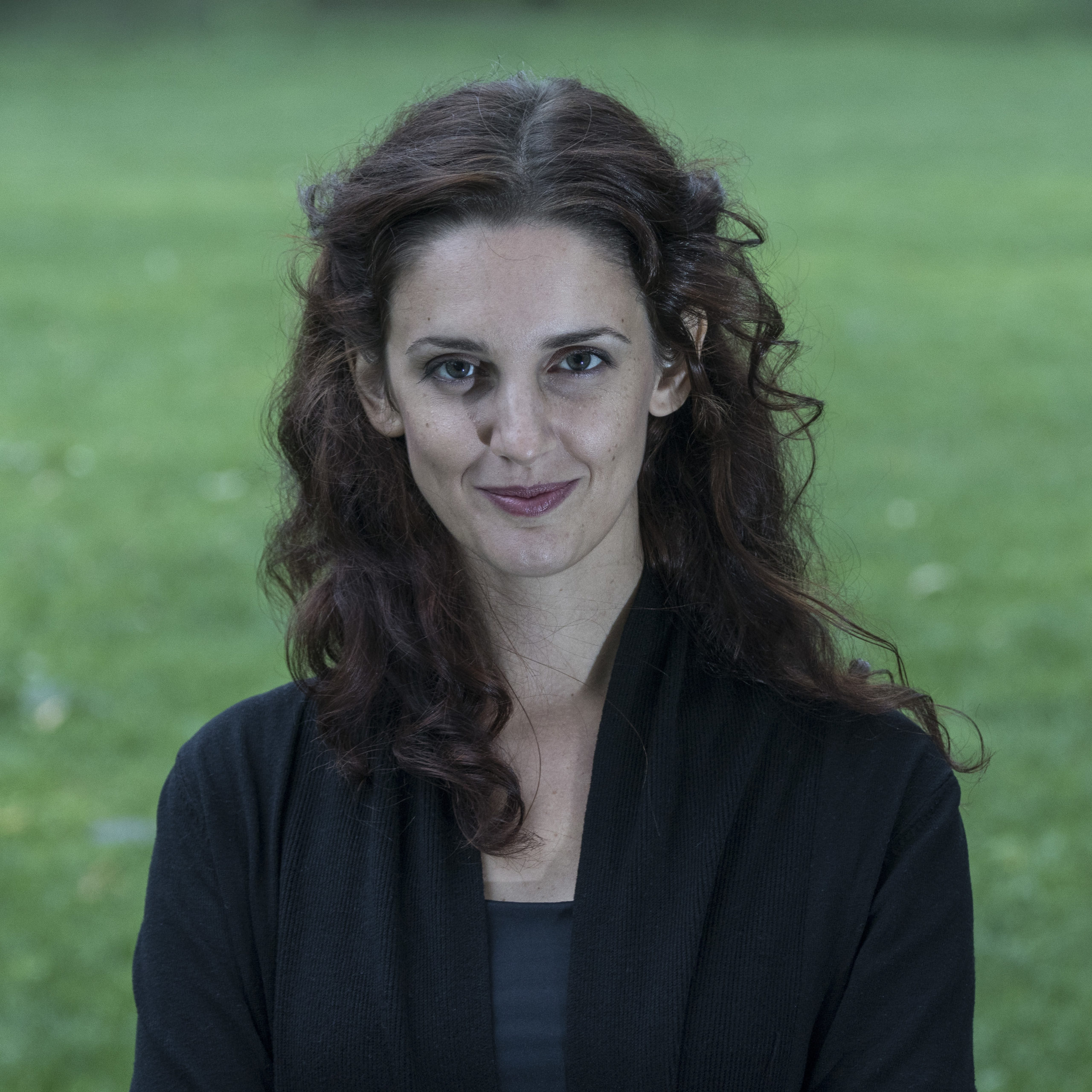 Suzana Jovicic is an Austrian Academy of Sciences (ÖAW) postdoctoral fellow and lecturer at the Department of Social and Cultural Anthropology, University of Vienna; and co-PI of the "We-Design" interdisciplinary project that combines ethnographic research on the role of digital technologies in relation to the labour access among Viennese youth with participatory design and app development. Her interests lie in the areas of digital, design and psychological anthropology, youths, and participatory research. She is co-founder of the Digital Ethnography Initiative (DEI) at the University of Vienna and co-convenor of the European Network for Psychological Anthropology (ENPA).
---
August 2022
What were Jewish children's roles in
surviving Europe's Holocaust?
Rosen, David, 2022. Jewish Child Soldiers in the Bloodlands of Europe. London: Routledge. https://doi.org/10.4324/9781003193487
During World War II, thousands of Jewish children became members of armed partisan groups in Eastern Europe. This book describes and analyzes the role of children as activists, agents, and decision makers in a situation of extraordinary danger and stress. The children in this book were hunted like prey and ran for their lives; they survived the Holocaust by fleeing into the forest and swamps of Eastern Europe and joining anti-German partisan groups. Most of them were pre-teens and teenagers between ages 11 and 18, although some were younger. They were, by any definition, child soldiers, and that is the reason they lived to tell their tales.
The evidence and argument presented in this book run counter to the accepted wisdom that child soldiers are primarily victims of their recruiters. It asks what a child's right of self-defense actually is, and how it is possible to assert this right when the principal institutions of society – including the schools, the judiciary, and the police – are specifically targeting children and there are no safe spaces remaining. There are numerous situations in which society is the enemy of the child, including not only the egregious example of Holocaust, but other instances of genocide, crimes against humanity and ethnic cleansing. Clearly time, place, and context are keys to our understanding of children's involvement in war; Indeed, in some contexts children under arms must be seen as exercising an inherent right of self-defense that supersedes child protectionist concerns.
Purchase David's book here: https://www.taylorfrancis.com/books/mono/10.4324/9781003193487/jewish-child-soldiers-bloodlands-europe-david-rosen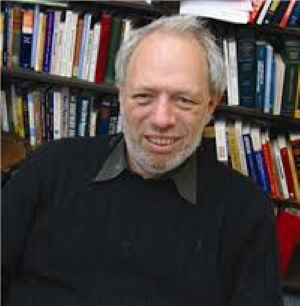 David M. Rosen is Professor of Anthropology and Law at Fairleigh Dickinson University, Madison, New Jersey. He received his Ph. D from the University of Illinois and his J.D. from Pace University School of Law. He has carried out research in Kenya, Sierra Leone, Israel and Palestine with special interest in children and armed conflict. His recent books include Jewish Child Soldiers in the Bloodlands of Europe (2022), Child Soldiers in the Western Imagination: From Patriots Victims (2015) and Armies of the Young: Child Soldiers in War and Terrorism (2005).
---
June 2022
What Can Writing Plays with Children Tell us About How They See Their Worlds? 
Hasemann Lara, José E. 2022. "Care in Ruination: Accessing Children's Critiques of Health Through Playwriting." Medical Anthropology 0 (0): 1–14. https://doi.org/10.1080/01459740.2022.2053966.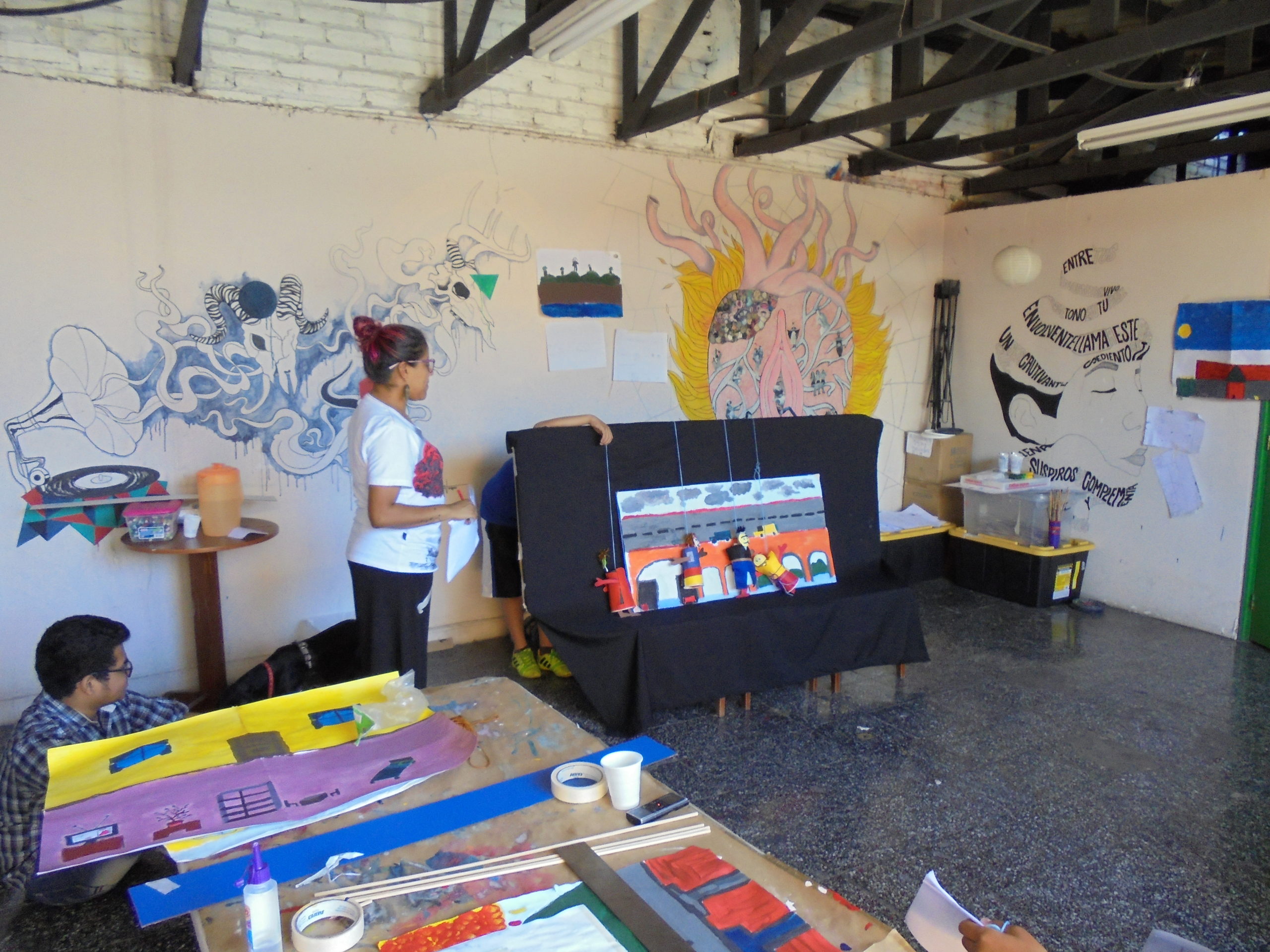 How do children think about the world? How do children take information about the world around them and make sense of it? What is unique about how children engage with the world and represent their worlds to others?
I started working with children in Honduras without first pausing to think about these questions. I assumed children's perspectives were just another window into adults' worlds. I was wrong.
Before sitting down to work on plays with two groups of children, I had several opportunities to observe how the children made sense of their worlds as subjects in-the-world. I watched some of the children reenact the migration route to the USA as a game. I talked with some of them about migration in their own families and their feelings and expectations. I gossiped excitedly with other children about witchcraft and evangelical Pentecostalism in their neighborhoods. I also listened to them discuss the spread of infectious diseases in their neighborhoods and public health care services. In the plays the children wrote, I watched the children grapple with themes like substance abuse and domestic violence, as well as solidarity. They traced and described complicated ideas borrowing from their own experiences and local TV shows.
The children were aware of inequality, class difference, urban precarity, and social welfare, and wove all of it into their stories. Through their plays, the children also challenged the world as it was/is by elaborating on alternate futures. The children reconfigured the social relations that bind a place like urban Honduras to present a more equitable potential social landscape. It was thrilling to get a glimpse of a shared world through their eyes.  
Access José's article here: https://www.tandfonline.com/doi/full/10.1080/01459740.2022.2053966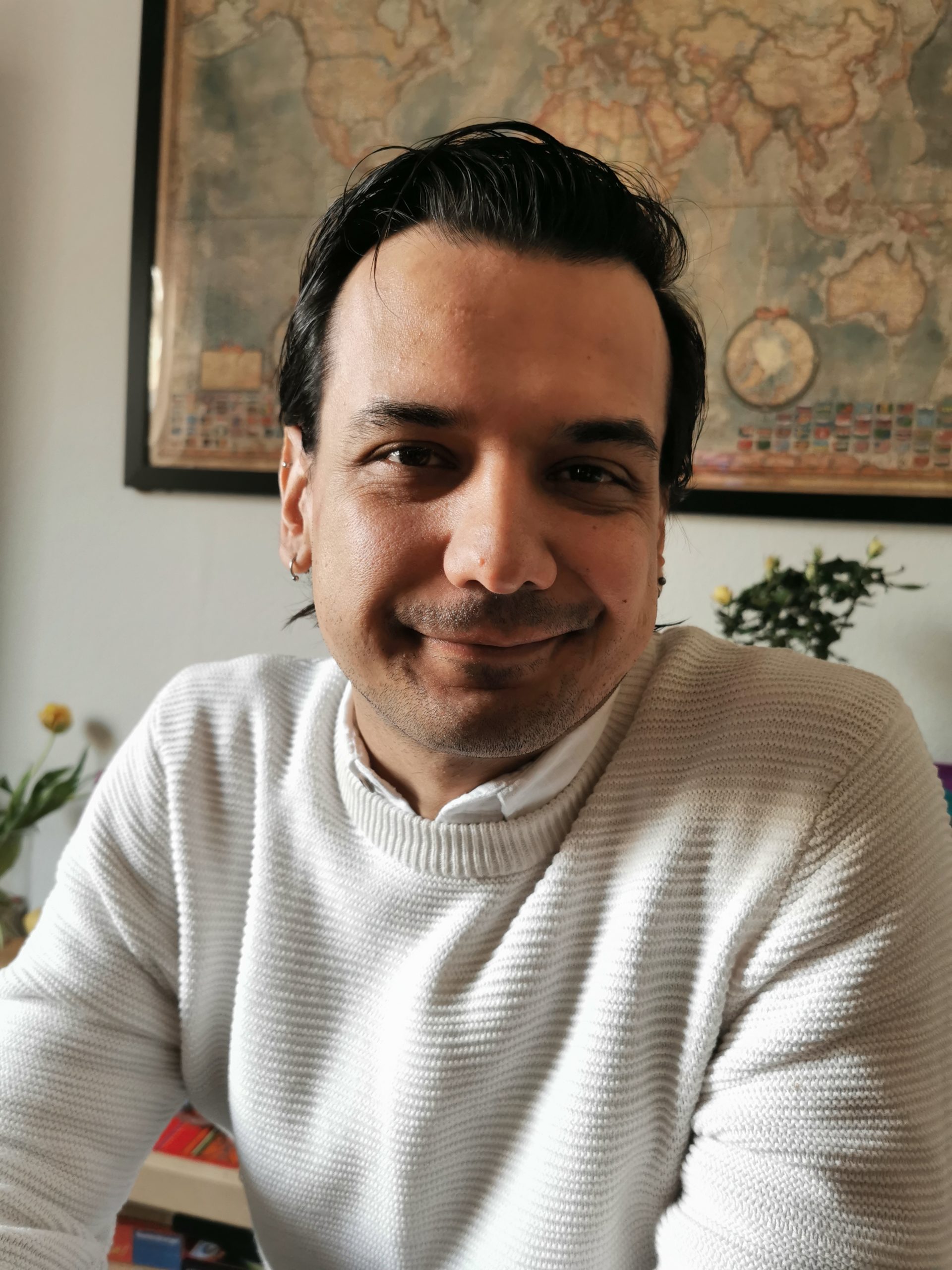 José Enrique Hasemann Lara holds a Ph.D. in anthropology (UCONN, 2021) and a M.A. in applied biocultural medical anthropology (USF, 2011) and M.P.H. in global communicable diseases (USF, 2011). His past research has focused on public health, inequality, racialization, and the unequal distribution of access to public goods in the urban landscapes of Tegucigalpa and Comayagüela, Honduras.
Find out how to submit your work to the Spotlight on Scholarship