Child development and the brain: An introduction
By Rob Abbott and Esther Burkitt
Paperback ISBN: 978-1-4473-0704-4  £19.99 $34.95
Packed full of images, case studies, reflection points, this accessibly written textbook is designed to introduce undergraduate students on social science courses to the science behind the brain.
The emotional politics of social work and child protection
By Joanne Warner
Paperback ISBN: 978-1-4473-1843-9  £21.99  $36.95
This book introduces the concept of emotional politics. It shows how collective emotions, such as anger, shame, fear and disgust, are generated and reflected by official documents, politicians and the media.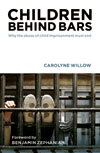 Children behind bars: Why the abuse of child imprisonment must end
By Carolyne Willow
ISBN 978-1-4473-2153-8  £12.99 $25.00
This engaging book presents the shocking truth about the lives and deaths of children in custody, reading only one conclusion: child prisons must close.
Change and continuity in children's services
By Roy Parker
Paperback ISBN 978-1-4473-2222-1  £80.00  $120.00
This collection of 12 new and revised essays on child care and children's services gives a unique and lasting review of child care services explaining significant political, economic, legal and ideological aspects of this history from the mid-1850s.

Families and poverty: Everyday life on a low income
By Mary Daly and Grace Kelly
Paperback ISBN: 978-1-4473-1883-5  £24.99  $42.95
The central interest of this innovative book is the role and significance of family in a context of poverty and low-income. Based on a micro-level study carried out in 2011 and 2012 with 51 families in Northern Ireland, it offers new empirical evidence and a theorisation of the relationship between family life and poverty.
Key thinkers in childhood studies
By Carmel Smith and Sheila Greene
Hardback ISBN: 978-1-4473-0807-2  £75.00  $119.00
This book presents the perspectives of 22 leading figures involved in shaping the field of Childhood Studies over the last 30 years. They reflect on the changes that have taken place in the study of children and childhood, discuss ideas underpinning the field, examine current dilemmas and explore challenges for the future. 
Policy Press also publishes a range of academic journals including Families, Relationships and Societies and Critical and Radical Social Work. Free trials are available for both – find out more on our website.